Vulcanized Fiber
---
General Description
---
Vulcanized fiber (fish paper) tubing is produced from a cotton rag base paper. This is a dense material of partially regenerated cellulose in which the fibre structure is retained. Tubing has a blue-grey color.
Material Properties* :
Dielectric strength- VPM min: 
300
AlEE Temperature Class - °C: 
105 (A) 
Tensile Strength - min. PSI lengthwise: 
8000
Specific Gravity:
1.15
* As provided by mill. Based on 10 mil sheet.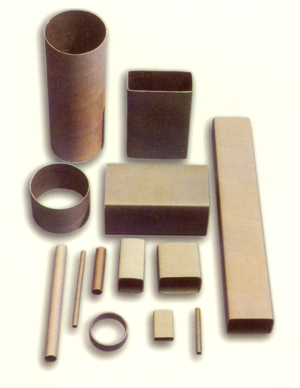 Advantages: Vulcanized fiber has a tensile strength 80 times that of kraft. Its high strength is very useful for mechanical applications such as winding heavy wire or wire under tension. It has good arc quenching ability as well as excellent abrasion resistance. It is a tough, stiff material.
Minimum Wall Thickness: .010"
Suggested Uses: Battery covers, grommets, sole­noids, capacitor covers, pilot light shields, protecting covers, motor shaft spacers, ignition coils, DC coils, relays, fuses.
Additional Tubing Resources (PDF Downloads)