Convolute Laminated (Tubes, Rods & Spacers)
---
General Description
---
Laminated tubing is made of thermo-setting resins combined with various base materials such as dielectric paper or cotton cloth. The tubing is convolutely (using the entire width of the sheet) wound under high pressure and heat. The resulting product is a dense homogeneous material that can be machined, polished, painted and printed on.  Laminated tubing is easy to saw, drill, tap, thread and punch with ordinary tools. The materials have excellent electrical insulating properties.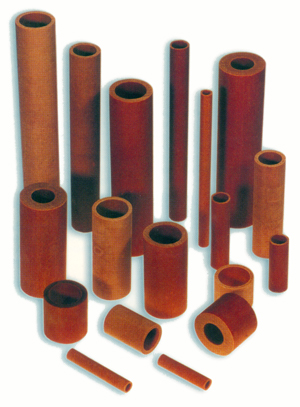 Advantages: Laminated rods are lighter, more economical and in many applications, stronger than metal. They are produced from insulating materials and are corrosion and moisture resistant. They too may be sawed, drilled, tapped, punched, and threaded with ordinary tools. Laminated Rods are also available in convolute wound, laminated materials. The resulting product is a dense homogeneous material which is milled to exacting diameters from 1/16" to 4" (metric diameters are also available). Lengths are produced to your specifications. Their insulating properties, resistance to extreme temperatures and light weight make them particularly desirable for use in electronic and electrical equipment. They also provide excellent resistance to compression, impact, vibration, corrosion and moisture. The materials may also be machined with ordinary tools.
Specifications: Currently, laminated tubing is available in maximum lengths from 36" to 48" depending on the grade. They can also be furnished cut to specified length. ID diameters range from 3/32" to 6" with wall thickness from .010" to 1.00" depend­ing on the diameter of the tube. Larger sizes can be furnished on request.
Suggested Uses: For special applications requiring an extremely fine surface finish, or which call for an especially strong tube, rod or spacer, Precision can furnish convolute wound tubing in a variety of materials. Finishes include ground, polished, painted or lacquered. Tolerances are to NEMA standards. For special tolerances, please give us a call.  Laminated spacers and threaded standoffs can also be produced from convolute wound insulating materials. 

If you have a need for convolute wound, laminated tubing, rods or spacers, please give us a call or Fax us your drawings and specifications. We'll be glad to furnish information and prices.
| NEMA Grade | Application Requirements | Color | Base Materials |
| --- | --- | --- | --- |
| X | Good electrical properties in both dry and humid conditions. Fair machining qualities. | Natural, Black | Paper |
| XX | Suitable for most electrical applications. Good machinability. Better moisture resistance than Grade X. | Natural, Black | Paper |
| XXX | Good electrical characteristics under humid conditions. Good machinability. | Natural | Paper |
| C | Good physical and machining properties. Fair electrical properties. | Natural | Cotton Cloth |
| CE | Good structural strength. Excellent machinability. | Natural | Cotton Cloth |
| L | Excellent machinability. | Natural | Cotton Cloth |
| LE | Low moisture absorption. Excellent machinability. Good acid resistance. | Natural | Cotton Cloth |