Resinite ™ Phenolic Impregnated Tubing
---
General Description
---
 Resinite ™ tubing is wound from neutral, natural, electrical grade kraft paper which is then vacuum impregnated with high quality, electrical grade, phenolic resins. After impregnation, the tubing is baked at 300°F. in order to cure the resin and to form an homogenous product that has its own, special, high quality characteristics for electrical and mechanical applications. Resinite tubing may be centerless ground to close tolerances and is again resin coated for a complete seal. It is available in round forms only.
Also See: Flame Retardant Resinite
Resinite ™ is a registered trademark of Precision Paper Tube Company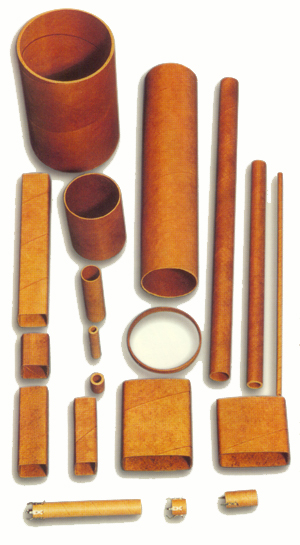 Advantages: Resinite™ tubing presents a unique combina­tion of low cost coupled with high mechanical strength and good dielectric properties. It will support lugs and terminals and can be fabricated by punching, slitting, milling, cut­ting and turning. Its heat resistance is such that it will readi­ly accept dip or hand soldering of terminals. Resinite™ tubing may be embossed to accept threaded iron cores.
Minimum Wall Thickness: .006"
Suggested Uses: Collars, Insulators, Fuse Parts, Spacers, Protecting Covers, Terminal Rings, Motor Spacers, Mechanical Cores, IF & RF Coil Forms, Flyback Transformers, Electrical Transformers, Shafts & Tuning Rods.
Resinite Tubing Use and Properties
RG-8108:
A formulation that is intended primarily for mechanical applications where higher phenolic content is not required.

| | |
| --- | --- |
| Dielectric strength- VPM min:  | 210 |
| AlEE Temperature Class - °C:  | 90 (0) |
| Moisture Absorption: (72hrs., 100% hum., 105°F): | 12% |
| Coefficient of Thermal Expansion: parts/°C: | 1.3x10^-5 |

RB-8111:
The standard grade Resinite™ tubing that is used for most electrical applications. It has high strength and extremely favorable electrical qualities.

| | |
| --- | --- |
| Dielectric strength- VPM min:  | 260 |
| AlEE Temperature Class - °C:  | 105 (A) |
| Volume Resistivity-ohms/cm: ( .013"wall,.280"OD):  | 1.2x10^12 |
| Dielectric Constant (@ 1MHz):  | 3.32 |
| Moisture Absorption: (72hrs., 100% hum., 105°F): | 2.86% |
| Coefficient of Thermal Expansion: parts/°C: | 1.02 x10^-5 |

RS-8717:
A superior grade of tubing that provides extremely high strength with the best stability over a wide temperature range. Best grade for machining.

| | |
| --- | --- |
| Dielectric strength- VPM min:  | 290 |
| AlEE Temperature Class - °C:  | 105 (A) |
| Volume Resistivity-ohms/cm: ( .013"wall,.280"OD):  | 1.2x10^12 |
| Dielectric Constant (@ 1MHz):  | 3.32 |
| Moisture Absorption: (72hrs., 100% hum., 105°F): | 2.10% |
| Coefficient of Thermal Expansion: parts/°C: | 1.01 x10^-5 |
Additional Tubing Resources (PDF Downloads)